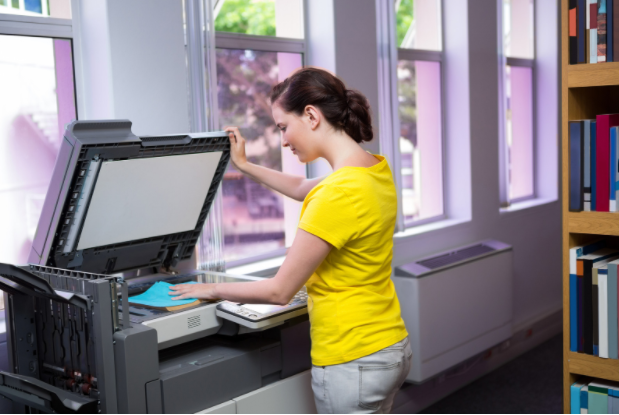 Photocopier or copier machine is the most used machine to reproduce a document or an image. This is the most convenient and easiest process to make tons of copies. Over the years, it improved a lot and can now do many functions apart from copying alone.
Below are the five most common copier machines that you can choose depending on your usage, purpose, and budget.
1. Mono Copiers. These types use black and white toner. These come in different size ranges, speeds, and high-volume devices. Can only produce monochrome photocopies.
2. Colored Copiers. These types contain the four primary colors. These are the Cyan, Yellow, Magenta, and Black. Apart from black and white, which looks much versatile on this machine. These copiers are usually used for business purposes because of colored image options. These copiers are useful during presentations.
3.Desktop Copiers. These types are only for smaller sizes like an A4 size, and it is being placed on the desk. These can either go basic or multifunctional. This is only used for personal or small office needs.
4. Multifunctional Copiers. These copiers perform tasks more than copying. That's why it is named multifunctional. These types also print, scan, and can send faxes. The latest model of these can connect to the internet. So it can send files in different locations, types, and networks, making it more convenient and safer for the company and the users.
5. Network Copiers. These types can connect to a computer and allow remote printing, faxing on PC, and scanning. These have a built-in network card like other digital copiers but can also buy if the needs arise.
Now that you know all these types let us also discuss the five common factors you need to consider in buying these copiers are.
1. Purpose: What would be the main purpose of your machine? Nowadays, copiers can do a lot of things, as mentioned above. Is it for copying only? Or you also need to print or send a fax. Determine your purpose. Do you know which type suits your needs?
2. Office Space: The size of your copier should fit into your office. Most of the copiers are bulky. Make sure that your office has enough space for it. This may also cause inconvenience if it will be placed somewhere far or not having enough space to move.
3. Cost: Apart from your copier's actual cost, you should also consider the other expenses it needs. Make sure to know what are the other inclusions included upon purchasing the machine. It is important to know the service fees and warranties too.

4. Advance features and other accessories: Some of the copiers now have extra features. Some of these are wireless connectivity and data encryption. These are very useful and convenient for everyday office needs and security. You may want to consider these upon buying. There are also included accessories on some copiers. Examples are Holes punching, stapling, and folding. If money is not a problem, you may want to invest a little extra in those.
5. Copier's speed: The current speed of copier machines in the market right now is between 25 to 65 ppm. You need to consider this to meet your needs of having one. You must select the higher ppm if your print volume needs are high.
In buying or acquiring a product like copiers, it is very important to know the price and your need to have one. That won't save you money in the long run, save time, and take you away from any further spending.
Ready to have a copier now? If you are in Washington and you're looking for a Copier for your business, you may contact Clear Choice Technical Services in Washington. You can ask about Copier Leasing Services in Washington, Copier rental services in Washington.