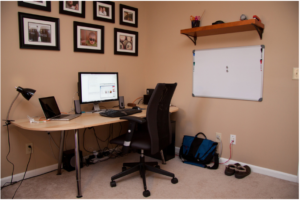 The monochrome laser All-in-One Brother MFC-L5900DW is an ideal machine for offices and small workgroups given the excellent performance and cost-efficient output it offers. With fast print and a copy speed of up to 42ppm, the device can boost productivity, including cost-efficient output via the high-quality replacement toner cartridge for lower operating expenses.
This all-in-one machine from Brother also features flexible paper handling that comes with a 300-sheet paper capability and can be expanded up to 1,340 sheets with add-on trays. Through the 70-page capacity auto document feeder, you can easily scan two-sided documents to different destinations, which is also made possible by a legal-size document glass.
In addition to that, MFC-L5900DW comes with advanced security features that offer network-user authentication as a security measure against unauthorized access. Its customizable color Touchscreen display, meantime, can be used to print and scan directly from a variety of business cloud services.
The Brother MFC-L5900DW makes it easier for the user to move it to the desired location, or fit on a desk without any trouble.
Brother MFC-L5900DW weighs 38 pounds and measures at 19.1 x 19.5 x 16.8 inches, which is the usual weight and size for a small-office monochrome multifunction printer. This printer can also be operated through the 3.7-inch color touchscreen display on its front panel.
It can take 300 sheets, split between 250-sheet main tray as well as a 50-sheet multipurpose feeder. There's also an optional 250- and 520-sheet trays, with a maximum paper capacity of 1,340 and additional 520-sheet trays. Meanwhile, the 70-sheet automatic document feeder of the printer can support single-pass two-sided scanning.
In terms of connectivity, the device can be connected to a PC through a USB, to a local network through WiFi or Ethernet, or peer-to-peer to a compatible device through WiFi Direct. This all-in-one machine can also work with Brother iPrint&Scan app and Cortado Workplace, can support Google Cloud Print, and a Mopria- and AirPrint-compliant to make printing from Android and iOS devices possible.
The overall quality for MFC-L5900DW was below par.
The text was just slightly above average, which is acceptable for businesses, except when very a small font is required.
For a mono laser, the quality of its graphics was below par, although it did well with most of the test files. There was a slight banding in a number of pages of an Excel file and encountered some issues with PowerPoint. In the Grayscale where PowerPoint defaults to while printing to a monochrome, the device had a problem outputting a figure that shows a gradient and the tone was shifting from dark to light and then goes back to dark. In the print, meantime, it remained at an almost dark shade.
As for the other Grayscale prints, the backgrounds, with two having the same gradients, were dropped and showed up as white. Although this is just fine for most PowerPoint documents in which printing a dark text is more significant than the background shading, it is not so when the background details need to be preserved.
Meanwhile, the backgrounds were noticeable when the Color setting was used, but gave a poor performance when it comes to differentiating between some gradients and the same tones. In fact, using the Color setting when outputting the PowerPoint documents from color originals fails to provide the ideal tone for files that are used for distribution to clients. While the quality of test photos was typical of a mono laser, some test prints demonstrated a clear banding.
Brother's pricing for toner and drum, MFC-L5900DW's running cost is 1.9 cents per page.
Simply, it is more expensive than MFC-L6700DW but cheaper than HP M426fdw. It offers a fast printing performance, good standard, and great optional paper capabilities, including several wired and wireless connectivity options in a competitive running cost.
That being said, Brother MFC-L5900DW is a perfect choice for a mono laser all-in-one printer for a small- to medium-sized printing needs in a small office or even the heavy-duty printing demands of a micro or home office.