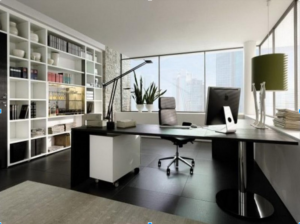 Hewlett Packard offers an all-in-one inkjet printer that has the scan and copy features, built-in faxing, and an automatic document feeder. Office jet Pro 8710 supports Linux, Windows, and MacOS and comes with a paper tray capacity of 250 sheets. It can take as much as 77# basis weight, which is quite heavier compared to what's typical. An automatic document feeder enables scanning or copying a stack of pages in just one operation. In fact, this feature also allows copying or scanning the two sides of the pages.
The HP Officejet Pro 8710 comes with a small 1.9-inch screen display with a touchscreen interface. It can be connected directly to a PC using a USB cable and to a network router via an Ethernet cable or WiFi. This HP model provides a built-in faxing function that stores incoming faxes whenever it runs out of paper and sends faxes as well from a PC. Through a downloadable app that is stored in the printer, the Internet can be accessed directly to enable printing of news or information from entertainment services. Meantime, a quick setup of Officejet Pro 8710 would need a space that measures 19.5 inches wide, 25.2 inches deep and 12.3 inches high.
HP Office jet Pro 8710
offers a lot of options.
The touchscreen display on the front that articulates the user to give a nice angle when using it. It also provides easy access to all the features such as the setting, scanning documents, and quick copies. Changing all the settings from a PC that is connected to a network or even with the use of an HP printing app is also possible. The said app enables direct printing from it including an example to scan documents with a smartphone and print directly on the Officejet Pro 8710.
The HP Office jet Pro 8710 is not only equipped with all the important functionalities.
Like most other HP Office jet Pro 8710, this copier Washington device does not only perform scanning, copying, and printing but is also packed with other features like duplexing, faxing, and an automatic document feeder.
HP printers are popular for bringing the most convenient features. Among these is the HP AiO Remote app that lets users configure and keet the printer from a smartphone or a tablet. This app enables the control of advanced settings like power management, printer preferences, network settings, printer maintenance, and web services. This means that although the touchscreen control panel is easy to navigate, the HP app is even better and a more convenient user interface.
With the HP Officejet 8710, the wireless/mobile printing functionality enables wireless printing from a device within a similar network. It also allows the user to email print jobs through HP ePrint, which means having the ability to print all documents on the HP Officejet 8710 printer from a remote place. In addition to that is the duplex printing functionality that allows automatic double-sided printing. This means more savings as it requires less number of paper, which also translates to less impact on the environment.
Another great feature of this HP printer is the auto-document feeder that enables an easy single-pass double-sided scanning. Incidentally, this functionality is not a common feature among printers, including the higher-end models. It allows the stacking of documents on the auto-document feeder, press copy, or scan. In fact, both sides of the document can be captured in one-pass without turning over the pages to make a copy of the reverse side.
The print output of HP Officejet Pro 8710 is not at par with laser-quality, given that the HP laserjets provide excellent high-resolution prints.
Although the print speed is standard in a copier Washington device, it can't compete with the pages-per-minute output of the mid-range office lasers. Moreover, the lack of a single-sheet input tray or an additional manual feed is what makes this all-in-one device a candidate for improvement, especially for offices that require the printing of special jobs on odd-sized paper such as a CD sticker label or letter envelopes.